About
Flamingo Horticulture Ltd is a vertically integrated agribusiness, providing our customers with the highest quality and leading best practice in the supply chain.
We pride ourselves on sustainable and responsible sourcing  with strategic partnerships with our growers and customers.
We are active in the growing, processing, marketing and distribution of sustainably produced roses and other cut flowers and premium and prepared vegetables and fresh herbs.
The Group is a core supplier to most of the leading UK multiple retailers, as well as internationally to customers in Europe, South Africa, the Middle East, Japan and Australia.
We are the largest added-value producer and exporter of flowers, delivering over 780m stems per annum. We produce and supply the EU with 26 million kg of vegetables per annum from sources worldwide  and we are one of the world's largest producers and packers of Fairtrade roses and lilies.
The Group's supply chain model is balanced between its own large-scale professional farms operating in Kenya and South Africa, combined with long-term sourcing partnerships with a global network of vertically integrated third party suppliers and out growers to offer our customers the highest quality product range and consistent year-round supply.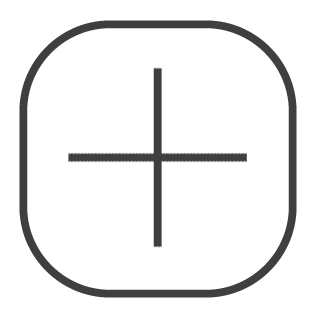 Flamingo Farms
Flamingo Flowers
Flamingo South Africa
Flamingo Produce
Flamingo European Companies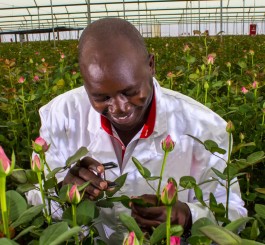 Flamingo's world-class farms in Africa are situated in Kenya (near Mt Kenya and Lake Naivasha) and in South Africa (near Johannesburg).
The Kenyan farms cover a combined total of 1,856 hectares. Situated on the equator at high altitude, Kenya offers ideal growing conditions for flowers and vegetables, with consistent temperatures and regular rainfall.
Our farms include;
Kingfisher-  Naivasha – (Roses, Spray Carnations, Fresh produce)
Flamingo – Naivasha – (Roses and Fillers)
Ibis – Mount Kenya – (Tenderstem, Broccoli, fine beans, runner beans, sugar snaps mangetout, spring onions as well as a range of fresh herbs)
Siraji – Mount Kenya (Spray Carnations, large headed roses)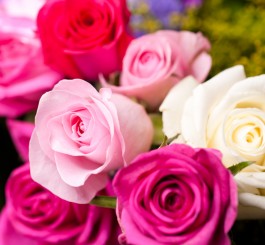 Flamingo Flowers is one of the largest global suppliers of fresh cut flowers, sourcing, and processing a total of c.780m stems per annum primarily for the UK and continental European markets, of which c.280m stems are grown on Flamingo own farms in Africa.
Flamingo is a core supplier to the leading UK multiple retailers in the Horticulture and Gifting category based on deep and longstanding strategic partnerships.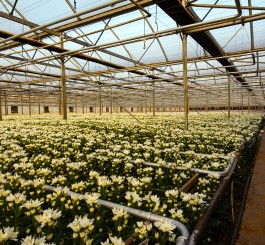 Tarlton farm covers a total area of c.124 hectares and is conveniently situated 47km northwest of Johannesburg, in the "Highveldt" region of South Africa, at an elevation of 1,750m.
It is situated on the Steenkoppies Dolomitic Aquifier, a very strong source of high quality underground water.
Flamingo Horticulture South Africa acquired c.58 hectares of additional land in 2005 to secure additional water rights which allows significant scope for expansion (c.50 ha available for development).
The farm has a dedicated processing facility packing chrysanthemums for export and value-added bouquets (including roses purchased from FHK) for domestic retailer Woolworths, as well as training, canteen and healthcare facilities on-site for staff.
The business employs c.450 people across its growing and packing operations with a strong labour base in Johannesburg.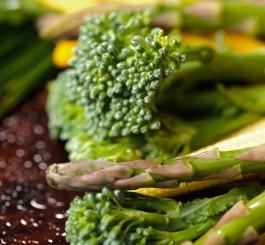 Flamingo Produce is one of the largest global suppliers of fresh premium and freshly prepared seasonal vegetables , sourcing and processing  c.26 million kgs (c.150million packs) solely for the UK retail market, of which 7m kgs are grown on Flamingo owned farms in Africa.
Flamingo is a core supplier to the leading UK multiple retailers in the Produce category, based on deep and longstanding strategic partnerships.
Careers
Flamingo Horticulture is a market leading Horticulture business with a worldwide footprint that covers the farming, production, sales and marketing of flowers and fresh produce. We offer challenging but rewarding careers in a dynamic, challenging and ever evolving environment. If you are interested in working for the Flamingo Horticulture group, please submit a CV and covering letter to:
Careers Europe Careers Africa Careers UK
Please note that whilst we endeavour to respond to all enquires individually, due to high volumes of interest this cannot always be guaranteed.
Fast facts
96hrs
From picking flowers in Kenya to their delivery to a UK supermarket shelf