News

Flowers of Hope – Kenya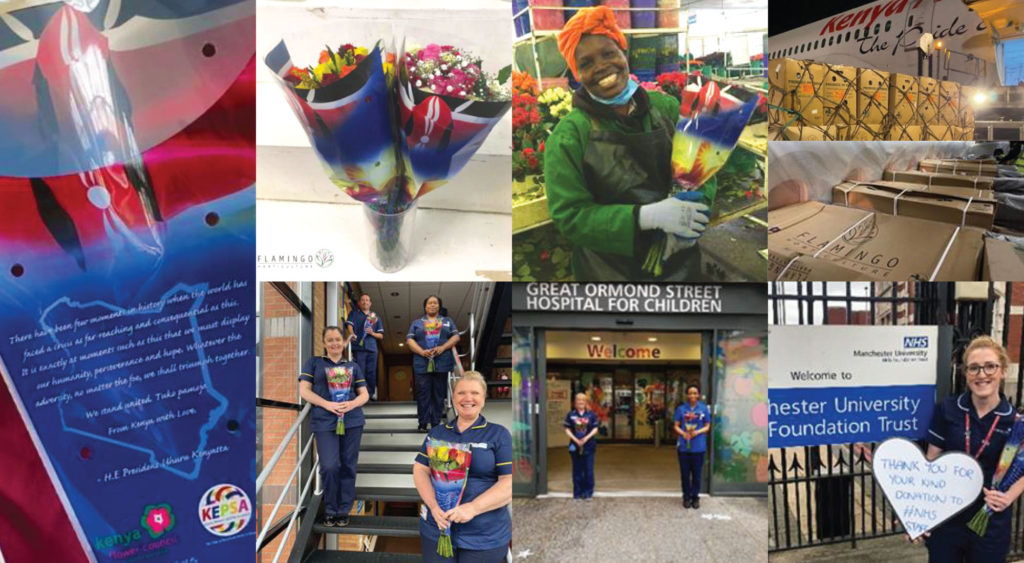 Kenya Growers Donate Flowers to UK NHS Frontline Health Workers Fighting COVID-19
Nairobi, 30 April 2020
Flowers of Hope – Kenya wants to bring some joy and show solidarity with frontline health workers fighting the COVID-19 pandemic. Following the launch in Kenya, the initiative has been expanded to the UK where Kenya's World renowned flowers are a prominent feature on the shelves of all the major supermarkets.
Kenya grows and exports annually over 180,000 tonnes of flowers to international markets, mainly the UK and Europe. This is equivalent to just over 5 billion stems of flowers.
Production is regulated through compliance with the internationally benchmarked Kenya Flower Council Standard to ensure sustainable social, environmental and agricultural practices.
The industry directly employs close to 200,000 people, of whom half are women, and impacts the livelihoods of families and many others employed in the formal and informal business sectors.
The international floriculture industry is a complex and highly integrated supply chain. When the COVID-19 pandemic took a hold in international markets and particularly in Europe, flower shops closed, and restrictions were imposed that resulted in a dramatic fall in the demand for flowers.
In the UK, where Kenyan flowers feature prominently on the shelves of all the major supermarkets, the stores have remained open and our flowers continue to bring hope and brighten the lives and homes of customers in these uncertain times.
Flowers of Hope – Kenya is an initiative of the Kenya Private Sector Alliance (KEPSA), of which the Kenya Flower Council is a member, that creates the essential link between the private sector and the Kenya Government.
The initiative appreciates the massive contribution made by front line health workers in fighting the pandemic in hospitals and health facilities in Kenya and in the National Health Service Hospitals in the United Kingdom. The donation is endorsed by HE Uhuru Kenyatta, the President of the Republic of Kenya, who has added his personal message of goodwill on every bouquet, that "we stand together" in fighting the pandemic.
Following the successful launch of Flowers of Hope in Kenya, 200 hundred bouquets designed by Flamingo Horticulture Kenya Ltd with flowers from their Naivasha farms where they were put together by Wilkster and her team of ladies using the special sleeves provided by Elgon Chemicals Ltd.
The bouquets were flown from Nairobi to the UK by Kenya Airways on board a B787 Dreamliner aircraft normally occupied by happy tourists returning from a memorable beach and safari holiday in Kenya but now adapted to carry freight to support Kenyan horticultural export businesses.
On arrival in the UK the bouquets were conditioned at Flamingo Horticulture UK Ltd.'s cold rooms in Sandy, Bedfordshire from where they were delivered by Rhodes Freight Services to six hospitals all dealing with the COVID-19 pandemic.
• Great Ormond Street Hospital, London
• Salford Royal Hospital, Northern Care Alliance
• Manchester University NHS Foundation Trust
30.04.2020